Oriental and Area Rug Cleaning Services in La Quinta
Fine rugs deserve, and require, extra-special care. And not just Antique, Oriental, or Persian rugs. Contemporary designer and a host of other area rugs do too. Whether heirloom, art, antique, or modern we'll make your rugs look their best and last their longest in our 2,800 square foot facility. Where every rug is special and every customer is valued.
Professional Rug Cleaning
It's true — regular vacuuming simply can't keep dust and grime from accumulating deep within rugs. That's why experts recommend that fine area rugs be professionally cleaned every 1 to 3 years, depending on the level of dust and foot traffic. Otherwise, those accumulations cut into textile fibers causing premature wear, promote bacteria and insect growth, and add to indoor allergies. But they should never be steam cleaned nor machine dry cleaned. Only expertly washed with the proper techniques and cleansers. We combine the best of traditional and modern methods, and can even rescue the most heavily-soiled or urine-soaked rugs. Here's our typical 9-step process.
Inspection for damage and general condition, dye stability, fabrication method, and type of textile fibers.  This tells us the details of proper cleaning procedures and products.
Dry soil removal, also called dusting, is one of the most important steps.  We dust both sides thoroughly to remove dirt that can interfere with washing.
Pre-spray pre-conditioning to jump-start the cleaning process.
Decontamination if there are pet urine stains or odors.
Hand washing by full submersion in purified water, shampooing both sides with professional products, repeating as needed.
Rinse in flowing water until only crystal-clear water emerges.
Drying begins with water extraction from both sides followed by air drying, face-down horizontally.
Vacuuming and grooming for the best and most uniform appearance.
Final inspection to assure the most thorough cleaning possible.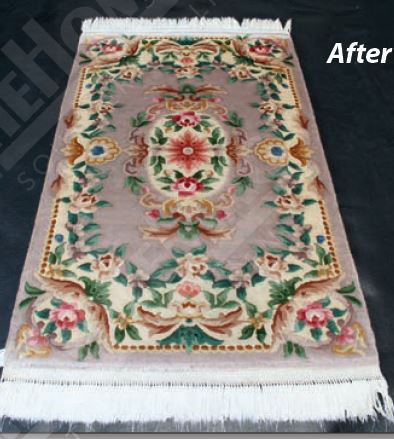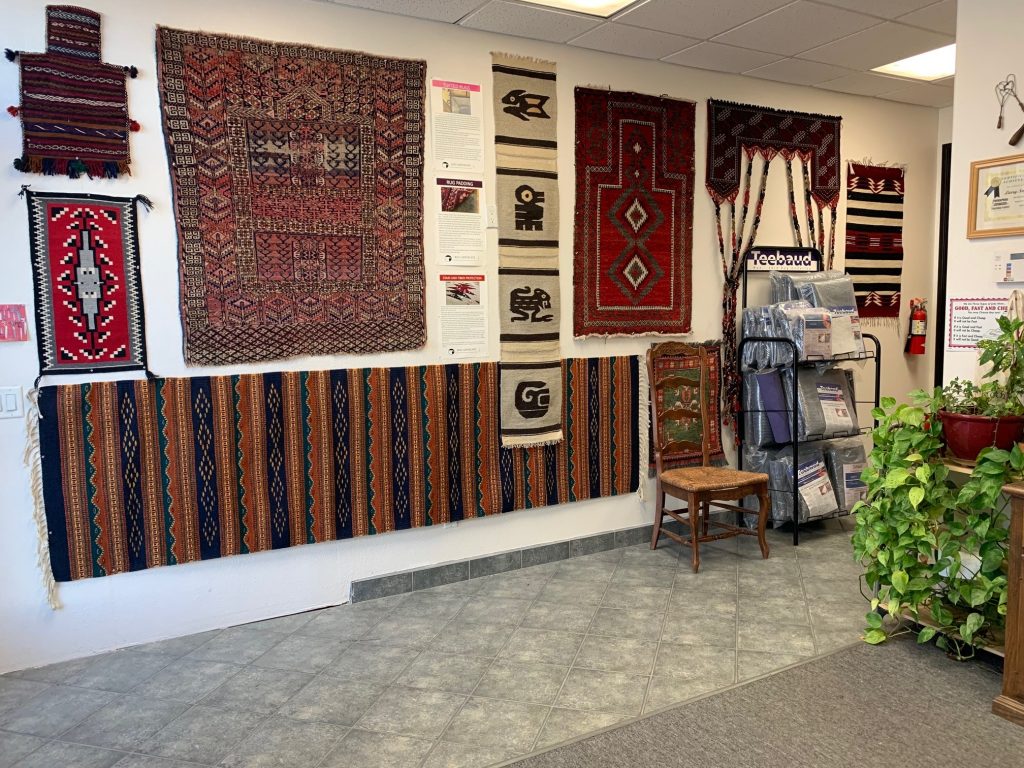 Custom padding is recommended for rugs placed on hard surfaces or in high-traffic areas.  It reduces wear and avoids tripping hazards.
Moth and insect repellant treatment protect natural fibers (especially wool and silk) that insects feed on.
Pet stain and odor removal for those accidents that are bound to happen sooner or later.
Restoration and repair for all sorts of damage.  Our experience and expertise include re-weaving, reattaching fringe, and fixing side cords and unraveled edges.  As well as patching and re-knotting.  We can even repair dry rot and insect damage.
Spot removal for spills and other types of staining.
Stain protection to block dirt and liquids, giving you more time to prevent stains from setting in.
Wrapping and storing, as recommended for rugs that won't be used for a month or more.
Why People Choose Magic Rug Cleaners
Our extensive training makes us the rug-care experts for La Quinta. Together Larry and Cathy Snyder hold dozens of certifications and professional memberships, including the Association of Rug Care Specialists , IICRC, Textile Pro Master, and WoolSafe of North America. We're dedicated to our customer's satisfaction and to the very best care of textile treasures.
Call Now for Pick Up and Delivery!
Our rug spa is conveniently located in Palm Desert short drive from La Quinta. All work is done on premises by our highly trained and educated rug cleaning and repair specialists.
Our credentials include IICRC Upholstery & Fabric Cleaning, IICRC Carpet Cleaning, Textile Pro Master Rug Certification and more
We have been serving La Quinta clients over 41 years. Come visit us today and see the difference we can make cleaning your valuable rugs by hand.
Driving Directions From La Quinta
La Quinta California
La Quinta, Spanish for "the fifth," is arguably the leading golf destination in the US. The name dates back to the 1926 La Quinta Resort, but before that the area was settled for agriculture in Marshall Cove — despite the fact that federal surveyors had declared the overall area as "unhabitable." The town grew with other nearby cities, going from fewer than 5,000 residents in 1982 to 37,476 in the 2010 US census. (https://en.wikipedia.org/wiki/La_Quinta,_California)