Oriental and Area Rug Cleaning Services in Rancho Mirage
We know how much Rancho Mirage residents treasure their Oriental, Persian, and other fine are rugs. It doesn't matter if they're an antique or family heirloom, the centerpiece of a room's decor, or the recent addition of a contemporary designer rug — every rug and every customer are treated individually.
Vacuuming simply can't reach deep-down where dust and grime accumulates. From there it can cause odors and allergies, and most importantly its abrasive particles cause premature wear. That's why rug care experts recommend having your area rugs cleaned every 1 to 3 years. Unlike carpets, fine area rugs should never be steam cleaned, machine shampooed, or machine dry cleaned. Our certified team treats each rug by hand in our own facility to preserve their richness of color and texture for generations to come.
We offer our Rancho Mirage customers a full range of services for their fine area rugs, including free pickup and delivery.
Restoration and repair for new or old damage.  Our experience and expertise include moth and insect damage, dry rot, end damage, loose or missing fringe, unraveling edges, and damaged side cords along with services such as patching, binding, re-knotting, and re-weaving.
Spot, pet stain, and odor removal for those unavoidable accidents.
Stain protection application to block dirt and liquids, giving you more time for cleanup and better results with our cleaning.
Moth and insect repellant to protect natural fibers, especially wool and silk.
Custom padding to protect against trip hazards and unnecessary wear for rugs placed on hard surfaces or in high-traffic areas.
Wrapping and storage for rugs that will be out of use for a month or more.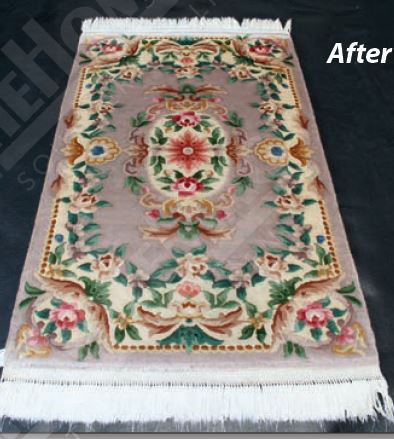 Truly Professional Rug Cleaning
We're ready for everything from routine annual cleaning to rescuing a pet urine-soaked rug. Each is washed individually, by hand all the way from start to finish to protect your investment.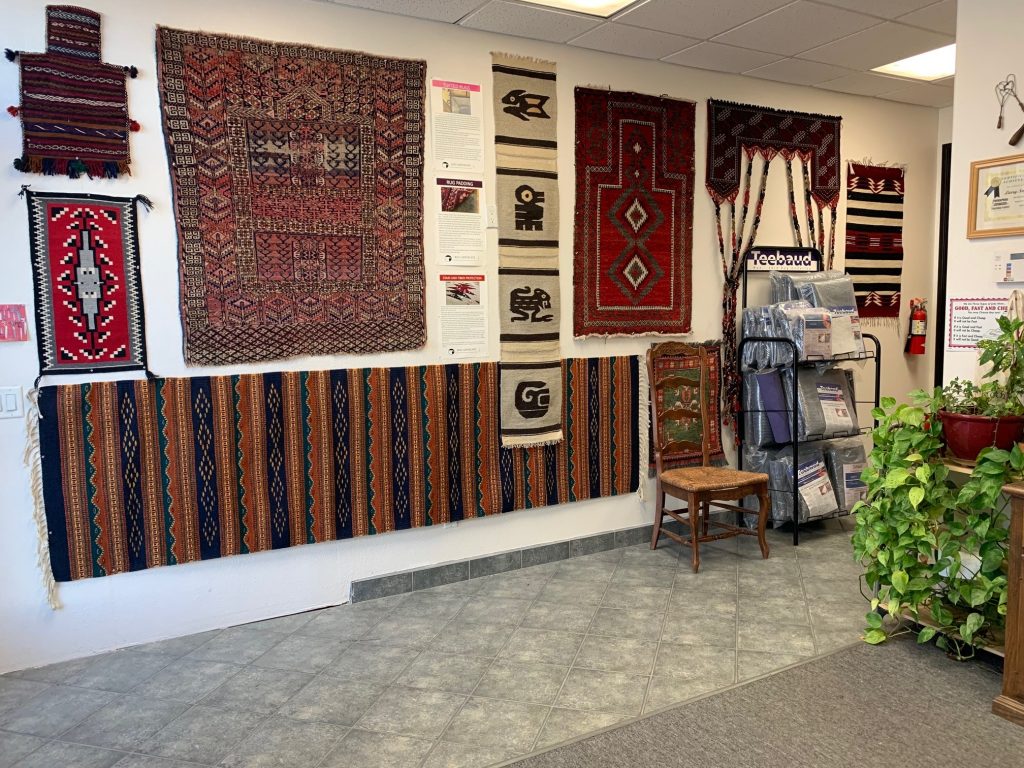 It all starts with an inspection for damage, dye stability, how it's made, and what textile fibers are present.  This information lets us choose the perfect cleansing products and techniques.
Dry soil removal eliminates solids that can interfere with cleaning.  We thoroughly dust both sides.
Spot treatments for stain and odor removal.
Decontamination of heavily soiled rugs.
Hand washing by full immersion, shampooing both sides with mild yet thorough products appropriate to the specific fibers, dyes, and construction.
Rinsing under continuous flow until only clean water emerges.
Water extraction from both sides then fan-drying face-down.
Vacuuming and grooming for a uniform appearance.
Final inspection for quality assurance.
Why People Choose Magic Rug Cleaners
We're Rancho Mirage's true experts, holding certifications and memberships from prestigious such as the Association of Rug Care Specialists, the Institute of Inspection, Cleaning, and Restoration Certification (IICRC), and WoolSafe of North America. We always put our customers first and treat each rug as a special treasure — just check all our 5-star reviews.
Call Now for Pick Up and Delivery!
Our rug spa is conveniently located in Palm Desert short drive from Rancho Mirage. All work is done on premises by our highly trained and educated rug cleaning and repair specialists.
Our credentials include IICRC Upholstery & Fabric Cleaning, IICRC Carpet Cleaning, Textile Pro Master Rug Certification and more
We have been serving Rancho Mirage clients for over 41 years. Come visit us today and see the difference we can make by cleaning your valuable rugs by hand.
Driving Directions From Rancho Mirage
Notable Rancho Mirage
First settled in the 1920s and 1930s Rancho Mirage became a top-end resort area after World War II, hosting everyone from popular singers to presidents. Check out the long list of notable people of Rancho Mirage at https://en.wikipedia.org/wiki/Rancho_Mirage,_California.