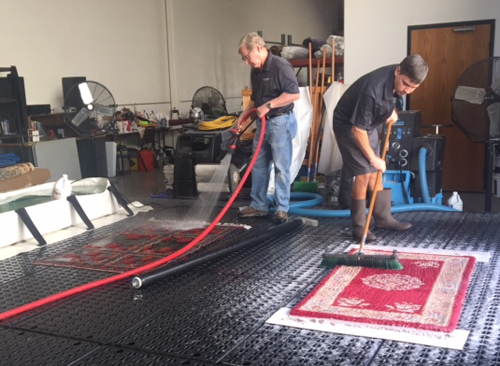 Rug Cleaning
Step by step process: Inspection, Dry Soil Removal, Pre-Spray, Decontamination Bath (for rugs with pet urine stains and odor), Hand-wash, Rinse with flow of clean water, Dry, and Final Inspection.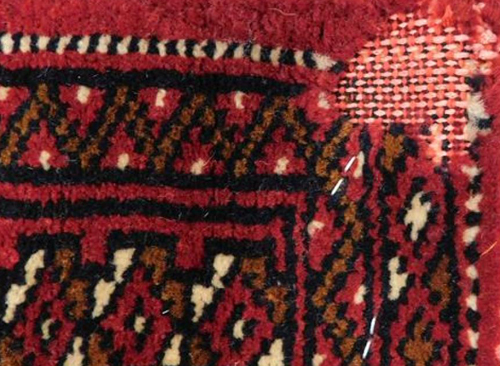 Moth & Insect Prevention
Moths are attracted to the protein elements in the wool and silk such as Vitamin B from humans and pets. Our treatment does not kill the insects, they do not like the chemical so they leave or starve.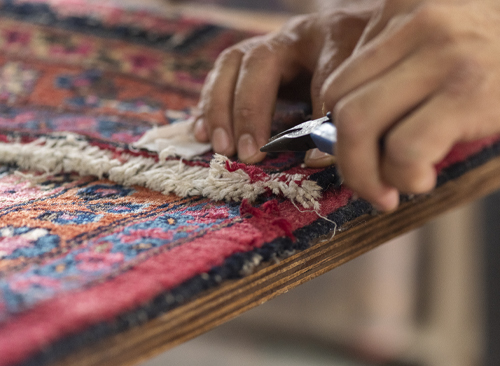 Repair & Restoration
Restorations & Repairs include re-weaving, fixing side cords/ unraveling edges, reattaching loose or missiing fringe, patching, binding, re knotting, end damage, dry rot, moth and insect damage & more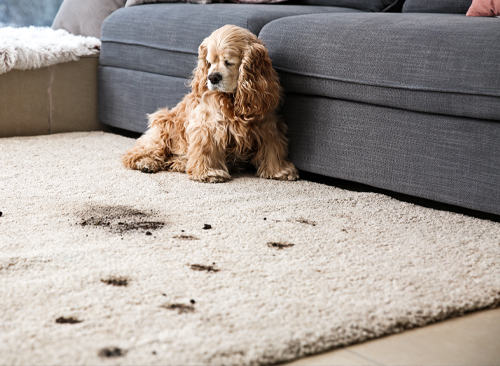 Rug Spot Removal
If you're upset by an unsightly spot on the beloved area rug in your living room, then you don't have to panic. Occasional stains are a part of life. We are the experts of rug stain removal.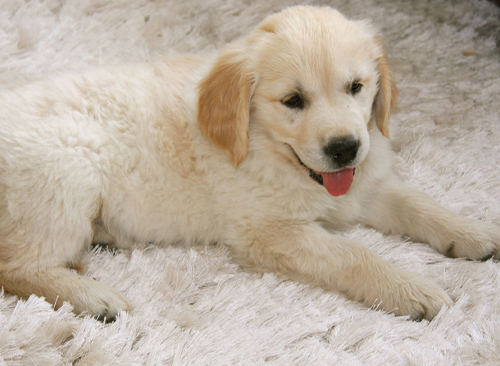 Pet Stain & Odor Removal
Thanks to our special urine treatment, and unique cleaning process, we have successfully cleaned hundreds of urine-soaked rugs over the years. So if your best friend had an accident do not worry.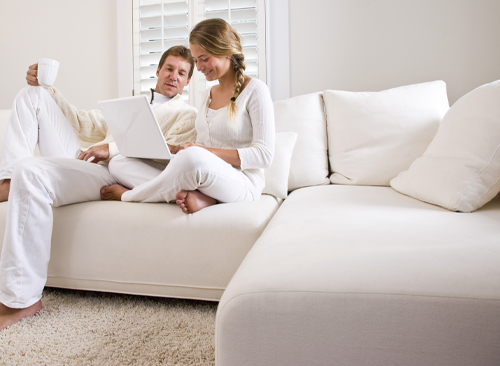 Furniture Fiber Protection
Fiber protection will efficiently block dirt and liquids, making stains and spills significantly less of a problem. Our fabric protection can be used for the majority of furniture pieces out there.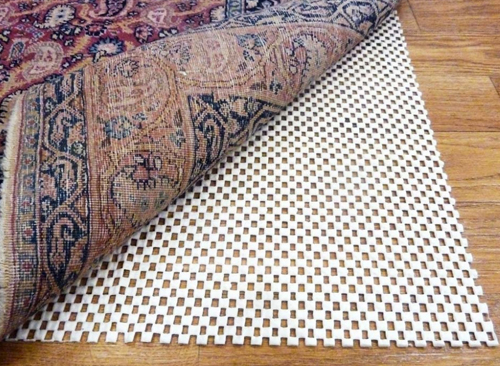 Rug Pad
Padding is highly recommended for all rugs utilized on hard surface and high traffic areas, and rugs with heavy household furniture on them such as tables, beds, and desks. We custom cut each pad to size.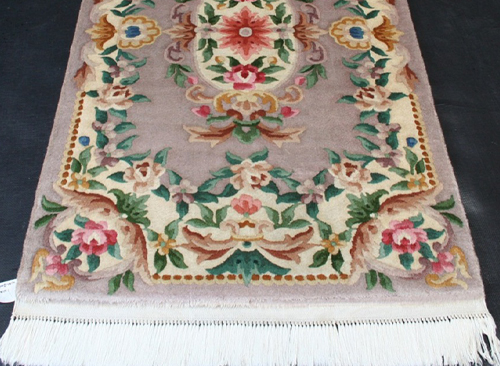 Stain Protector
Our product is woolsafe and is applied to the surface area of the rug. This protective coat works by coating the fibers to protect from spills and aids in helping to remove excess soil.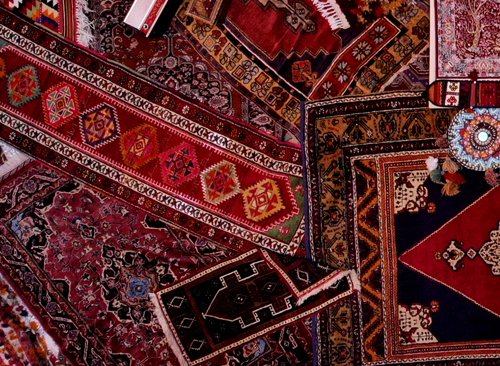 Wrapping & Storage
We suggest brown paper wrapping for 1 month or less of storage. Any period of time longer, we recommend they be wrapped in Tyvek, a moisture proof, tear resistant paper that will protect your rug.
All Cleaning Is Done By Us In Our Own 2,800 sq ft Palm Desert Cleaning Facility
Hand Washing Process
Complete dusting on both sides until all dry soil is removed
Thorough rinsing to remove any residual dry soil
The shampoo both sides of the rug, including the fringe, using Wool Safe approved products and a soft brush on a long handle. (By Hand) 
Repeat if necessary
Thorough rinsing until all water runs clean of soil & cleaning products.
Maximum extraction of water from both sides of the rug
Lay flat face down with blowers to speed dry the rugs
When dry we vacuum and groom the rugs and fringe.
Rugs are rolled and tied and ready for pick up or delivery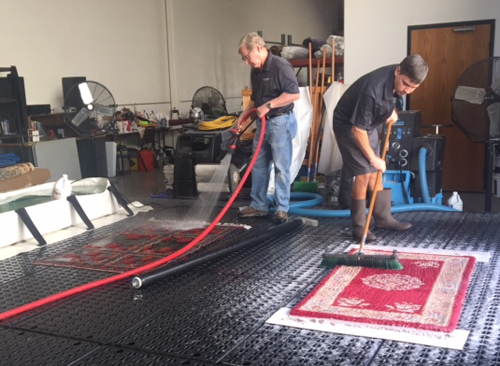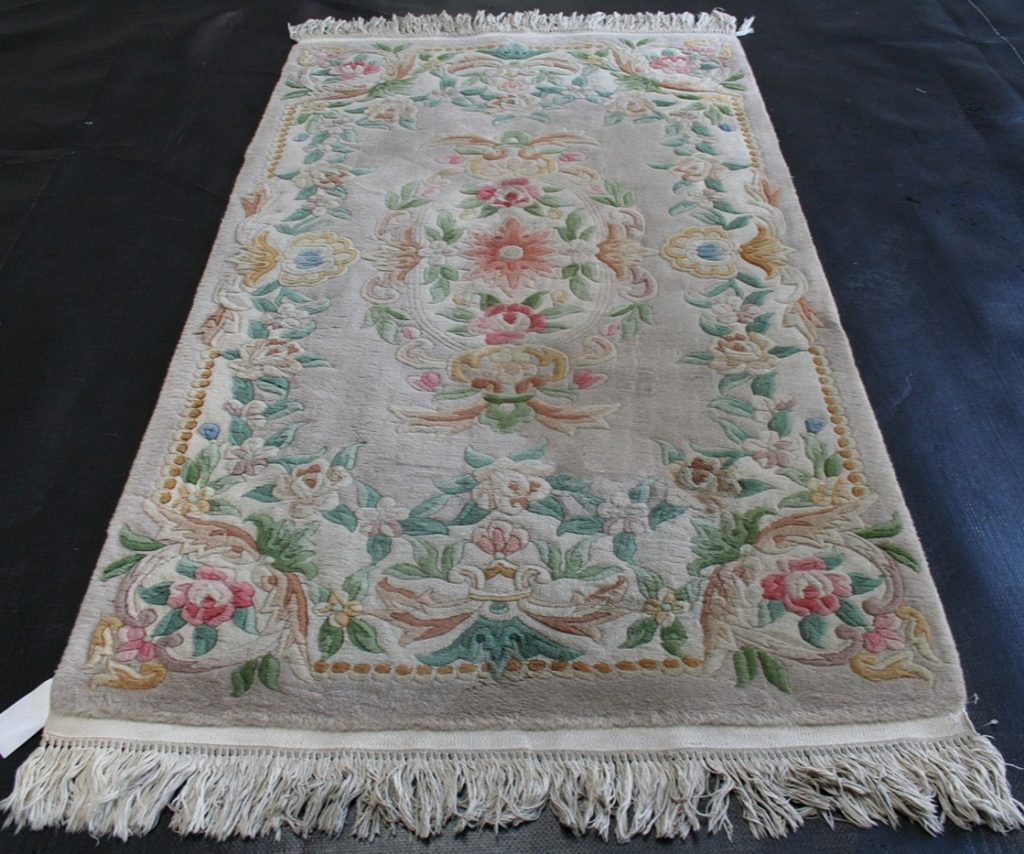 Tufted and Custom Rug Cleaning Includes:
Complete and thorough dusting 
Pre Spotting and Pre Conditioning
Topical cleaning on Wool with Wool Safe Approved Products, cold water topical extraction, and hand cleaning of the fringe
Synthetic fibers hot water extraction and hand cleaning of all fringe
Lay flat to dry with blowers
Groom rug, roll, and tie

The Importance of Proper Rug Cleaning
Nice Rugs can have a value of $30 to $150 or more per sq. ft. Is it not worth it to clean them properly? Here's what you need to know, The Importance of Proper Rug Cleaning.
It takes 3 weavers working 10 hours a day, 6 days a week for 14 months to weave a 9 X 12 Rug.
Full water submersion is the Traditional Old World way to properly clean Hand Made Rugs. Quality Rugs are not supposed to be truck mount cleaned. Many carpet cleaners offer rug cleaning but they do not provide the same service as Magic Rug Cleaners. At our Rug shop, every rug is 1st inspected for existing or potential damage, dye stability, how the rug is made & what fiber the rug is made of. You can't clean a rug properly without knowing all these things.
Next, we thoroughly dust & vacuum the rug on both sides until all the dry soil is removed. It's said that 80% of the cleaning process is in the dusting. If the dry soil isn't removed first, the soil stays in the tight knots of the rug causing continued abrasion, breaking the fibers, and prematurely wearing out the rug. Dyes are tested for stability and rugs that will bleed are treated to stabilize the dyes before the rug is washed.
It is necessary that Rugs are washed with cold water and Neutral PH Wool Safe approved shampoo. High PH products and hot water are great when used to clean synthetic carpet but is too strong for natural fiber rugs and will cause damage. High PH and Pet Urine can also release the dyes causing the colors to bleed.
Our Guarantee, "The Cleanest, Healthiest, Most Thorough Cleaning Ever."
At Magic Rug Cleaners we do all our own rug hand washing at our own shop in Palm Desert.
We feel our business and work history and qualifications are the things that set us apart from most other cleaners. Quality Cleaning is Our Business, Our only Business.