Oriental and Area Rug Cleaning Services in Palm Springs
Persian rugs, Oriental rugs, and other fine area rugs need professional care to keep them looking their best and lasting their longest. Vacuuming simply doesn't reach the dust and grime that makes its way deep down. From there they can cause allergies and odors. And if allowed to remain their abrasive particles cause excessive wear, significantly reducing a rug's lifetime. Yet improper cleaning (especially steam cleaning and machine dry cleaning) can cause their own damage.
Whether traditional or contemporary, we'll rejuvenate your rugs in our own 2,800 square foot facility for a richness of color, ideal texture, and long lifetimes. For us every rug is unique and every customer is special.
Professional Rug Cleaning
Even if your fine area rug appears clean, experts recommend professional cleaning every 1 to 3 years. We're equipped for the routine, as well as for special rescues. Here's our typical 9-step process.
Inspection:  We need detailed information to determine the best procedures and cleansing products for each individual rug.  So we begin with an inspection for damage, dye stability, general condition, construction, and type of fibers.
Dusting:  Removing dry soil that can cake and interfere with washing.
Pre-Spray:  Special treatment for spots and odors.
Decontamination:  Additional special treatments for special conditions
Washing:  Hand washing by full immersion, shampooing both sides using safe yet thorough cleansers.
Rinsing:  Rinsing under flowing water until the runoff is perfectly clear.
Drying:  Water extraction from both sides followed by careful forced-air drying.
Vacuuming and Grooming:  Final touches for a smooth feel and uniform appearance.
Final inspection:  Re-inspection to assure the most thorough cleaning possible.  If results are not up to our high standards we'll repeat steps until they are.
Additional Rug Care Services
In addition to dusting and cleaning, our team of certified rug care technicians offers a full line of services to Palm Springs' homes and businesses.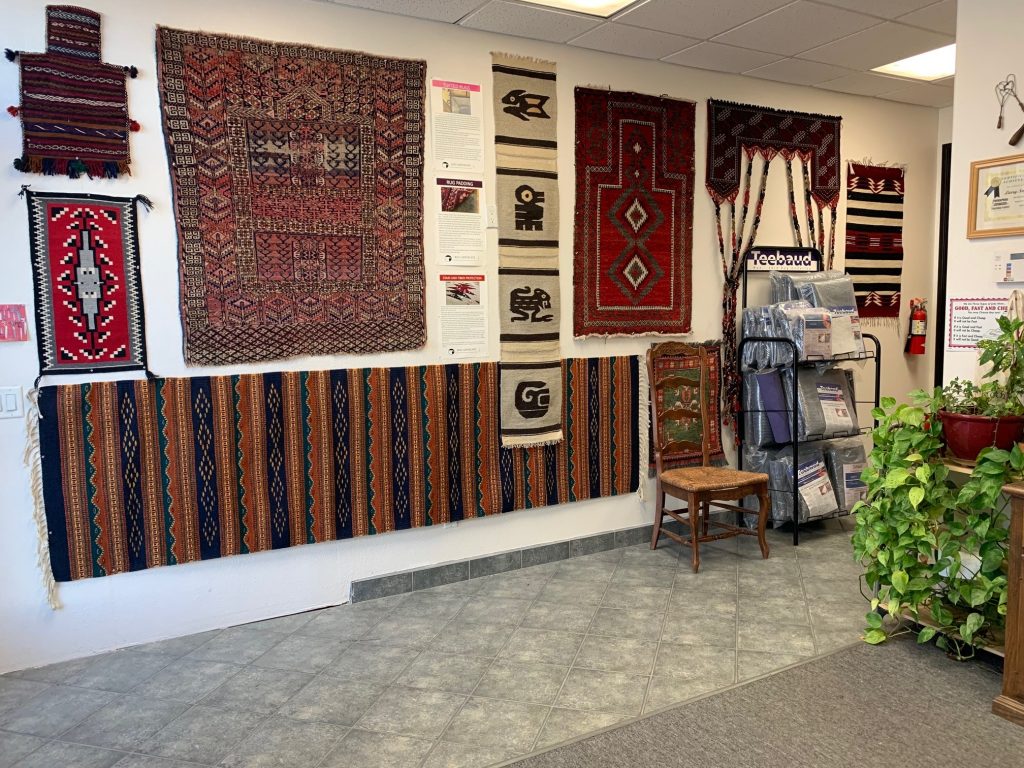 Restoration and repair services include fixing unraveling edges and exposed side cords, re-weaving and patching, replacing or re-attaching fringe, and re-knotting.  So in most cases we can undo physical damage as well as that due to dry rot and insects.
Moth and insect repellant treatments are especially important for wool and silk.
Spot and stain removal, either alone or as part of full-rug washing.
Pet stain and odor removal with products uniquely formulated for each type of rug.
Stain protection to block dirt and liquids, easing home cleanup and improving the next cleaning.
Custom padding to help protect rugs placed on hard surfaces or in high-traffic areas.
Cleaning, wrapping, and storage for off seasons.
Why People Choose Magic Rug Cleaners
We're the Palm Springs experts for fine area rug care, with an experienced staff trained by industry leaders such as the Association of Rug Care Specialists, the IICRC (International Institute of Cleaning and Restoration Certification), and WoolSafe of North America. Just check our numerous 5-star reviews to discover how our clients love us. We always put our customers first and treat each rug as a special treasure — just check all our 5-star reviews.
Call Now for Pick Up and Delivery!
Our rug spa is conveniently located in Palm Desert short drive from Palm Springs. All work is done on premises by our highly trained and educated rug cleaning and repair specialists.
Our credentials include IICRC Upholstery & Fabric Cleaning, IICRC Carpet Cleaning, Textile Pro Master Rug Certification and more
We have been serving Palm Springs clients for over 41 years. Come visit us today and see the difference we can make by cleaning your valuable rugs by hand.
Driving Directions To Our Studio From Palm Springs
Fun Facts About Palm Springs
You probably know that Palm Springs has been a fashionable resort area since the 1900s. But did you know that before then the area was exclusively the Aqua Caliente Reservation (the name taken from "se-khi" meaning boiling water in the language of the local Cahuilla natives)? That reservation is now a checkerboard, with many Palm Springs streets and localities taken from the surnames of native notables such as Amado, Andreas, Arenas, Belardo, Chino, Lugo, Patencio, and Saturnino.